Over the weekend I stumbled upon another
wonderful blog
that is run by Java. On Mondays she has a way for blogger (and non blogger)peeps to get together to learn a little bit about each other by responding to 5 questions and then linking your blog up, and I am happy to participate in this.
Do you want to check it out as well?? Sure you do, just click here, its easy and painless: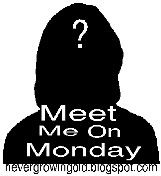 What is your favorite holiday?
My favorite holiday growing up and into adulthood was Christmas. I just loved the peaceful feeling of it, the spending time with family, helping out others when I could. Then we lost Mom right before Christmas and it became the most dreaded one for me. I didn't look forward to it and was unable to get into the holiday spirit.
Then along came my little girl a couple of years ago and she has brought the Christmas spirit back into me. Watching her eyes light up at the tree and seeing what Santa brought her, makes me smile.
What color clothing do you wear the most?
I tend to wear lighter shades of blue, green (love all shades of green), white, and peach. Like to wear light color clothes in the heart of summer here.
What is your heritage?
My family heritage is German.
What is your middle name?
It is just D. Easy to remember.
What is your favorite cookie?
Oh dang, I love, absolutely love, right out of the oven, melt in your mouth, chocolate chip cookies. When you bite into them the chocolate drizzles all over the place. Peanut butter cookies come in second, they are yummy as well (and also my husband's favorite.
Thanks again Java for hosting this and inviting me to join in.