Head on over to a
wonderful blog
that is run by Java. On Mondays she has a way for blogger (and non blogger)peeps to get together to learn a little bit about each other by responding to 5 questions and then linking your blog up, and I am happy to participate in this.
Do you want to check it out as well?? Sure you do, just click here, its easy and painless and then answer the questions on your blog (or in java's comment section) and add your link: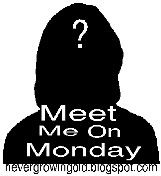 The questions this week are:
1. Do you wear socks to bed?
You would think that living where I do (bitterly cold during winter) that I would. But unless I am sick, I go to bed barefoot. It seems like they control my inner thermostat. If I get to warm under the comforter then I can just stick my feet out and it seems to work.
2. Do you have any pets?
Yes. Have a rescue dog and a rescue cat, and we also have a feral kitten that we caught that is now a house cat as well.
3. What topping(s) do you like on your pizza?
My favorite would be just sauce, cheese and mushrooms. (Now I want pizza, thanks java :-) )
4. What time do you go to bed?
It varies. Anywhere between 9:30 and later. Last night I was in bed by 9 because my back was really bothering me.
5
. Would you rather get free chocolate for one year or free potatoes forever?
Though I love my chocolate, I would go with free potatoes. I love potatoes and can cook them many different ways so that they don't ever get boring. Actually going to make potatoes for dinner tonight.
Have a great week everyone.