Head on over to a
wonderful blog
that is run by Java. On Mondays she has a way for blogger (and non blogger)peeps to get together to learn a little bit about each other by responding to 5 questions and then linking your blog up, and I am happy to participate in this.
Do you want to check it out as well?? Sure you do, just click here, its easy and painless and then answer the questions on your blog and add your link: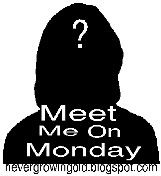 1. Do you watch any Soap Operas?
I use to, a long time ago. Young & The Restless and Guiding Light. I haven't watched in years and years. I do get Soap Opera Digest (which was a freebie) that I skim through on occasion. Seems like the same things appear to be going on now that were going on then.
2. What appliance is used the most in your house?
That would be a tie between the microwave and the washing machine. Between a husband and a 2-year old, I do lots of laundry.
3. Do you wear make-up every day?
Ummmmm, no. I never wear make-up. I have very sensitive skin and thought that I never looked good in make-up. Maybe if I took the time to do it I'd have a different opinion of myself and how I look.
4. What is your worst pet-peeve?
Oh I have a few, not sure if this would be the worst one but people that are completely fake and lie to you. Ones that say that they are your friends when they are around you, but completely run you into the ground when you aren't around. Really, I could do a blog post or two about this topic.
5. What is your favorite lunch meat?
Every once and a while I get a hankering for corned beef sandwiches, but my favorite is a tie between roast beef and wunderbar bologna. Both have to be fresh within a day or two though. You know a roast beef with swiss, lettuce, tomato, mayo sounds really good right now.
I hope that everyone has a wonderful Monday and week.