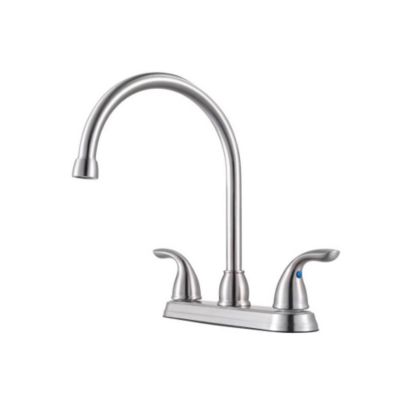 Please note: this model has been discontinued and replaced by a similar model.
Features:
Pforever Seal - advanced ceramic disc valve technology with a never leak guarantee
Spout swivels 360 degrees for maximum maneuverability
High arc spout for added clearance and reach
Pfister Pforever Warranty® covers finish and function for life
1.75 gpm @ 60 psi
I love being a member of the Pfister blog family and getting to review their fine products. This is actually my second review with them. You can see my first here.
This is what it looked like in the box.
Not to many parts, don't look bad at all.
This is the faucet that it is replacing.
Out with the old, in with the new.
I think, okay, what I know is this . . .when you are replacing faucets in your place. The hardest, longest, most frustrating job is taken out the old one. Things get corroded. Mainly important parts that need to be twisted to come off. There are a lot of scraped knuckles, mumbles under the breath, and threats of using a hammer on it.
Lucky, there is help. Always good to have a Dad help you out.
And a niece that fits under the sink.
Finally, with some luck and the right tool, the old faucet is removed.
I'll tell you straight up, putting the new one in? No time at all. Took about 10 minutes, if that.
The only "extra" item that does not come in the box, that you will need, is the Plumbers Paste that you will need to seal it. But, as you know, you can pick that up at any local hardware or big box stores.
After that went on, it was minutes later and the lines were on and tightened and the water was turned back on. Yay! No leaks. Always, make sure you check to make sure everything is tight and nothing is leaking.
Tightening of the hoses.
Last one.
Job well done.
And the finished product.
Shiny and new
Everyone is completely happy and they love the shiny new faucet.
As mentioned above, Pfister no longer makes this model, but you can get similar ones. For ease of being installed and for the way it really fits in with the decor I would give it two thumbs up. Anyone could easily put this in as there are only a couple of parts, just the matter of taking out the old one.
Why don't you head on over to Pfister and see what they have to offer? I'm sure that you can find one that would suit your needs. Besides kitchen faucets, they also offer bathroom fixtures and more, for any budget.
Two thumbs up for ease of installation.
Two thumbs up for price.
Two thumbs up for looking good in this decor. I think it would look good with any kitchen decor.
Want to take this time to send our thanks and gratitude to Pfister for allowing Lollipops 'n Ladybugs to participate in this review and for allowing us to be a part of Friends Of Pfister. If you want to check that program out, click here.
DISCLAIMER:
As a member of Friends Of Pfister, I received the product mentioned above free of charge in return for my honest review of the product. All opinions mentioned herein are my own and were not influenced by any outside source.